Ilze Rudzite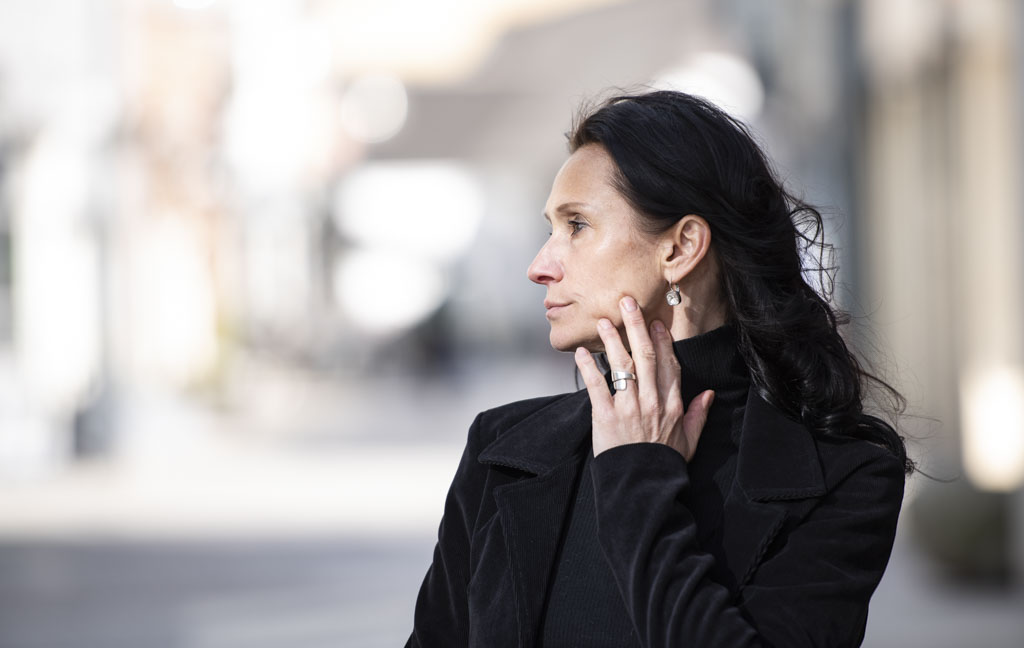 Ilze Rudzite (1972) was born in Latvia and lives and works in Denmark since 2008. In 1999, she graduated from the Textile Art Department of the Art Academy of Latvia, obtaining a master's degree. She learned more about textile design with her studies in Denmark, on the Department of Textile Design, VIA University College (2012 – 2015).
In 2022 Ilze has completed two educations, one at the well-established Kolding Design School in the area of 'Design Thinking for Educators'. The other is in "Craft Psychology" with the founder (Dr. Anne Kirketerp) of this new field that mixes working with crafts as a method for better mental balance and well-being.

Her works have been exhibited in Latvia, Denmark, USA, Ukraine, China and Germany. Ilze Rudzite is a member of many associations and added recently the IAPMA (The International Association of Hand Papermakers and Paper Artists) and the LDS (The Latvian Designers' Society).
Artist's Statement
For the last two decades, my work has been related to an aesthetic search for identity embodied in substance–fibre artworks, uncovering sublevels, such as cultural, environmental, social and existential. The works reflect on fluctuation and transformation of identity and are created in a dialogue with nature, its structures and abstract patterns. The articulation of visual language has arisen in searching for answers to existential questions about belonging, and national and cultural identity, in conditions that challenge and limit.
The fibre works are characterized by a subjectively constructed message, which is revealed through the diversity of the material and the unlimited amplitude of colours and shapes. Encoding the message, the chosen materials take a significant role, both natural and recycled. The materials from nature are collected during meditative journeys and preserved in the studio. There occurs a gradual acquaintance and communication, inspiring new ideas. In contrast, recycled materials challenge the revival of old materials encoding other functions, messages and visual forms. The combination of materials enlarges the expression of visual language, developing a broad spectrum of a colour pallet from achromatic and subdued pastel shades to bright titillating tones. The materials provide unlimited possibilities for textures and forms to become a part of two-dimensional and three-dimensional works.
I work with a sustainable art concept which respects the material's relationship with environmental ecology. In contrast to ready-made art, this approach to sustainable art does not preserve the form of a primary object. The primary object is being deconstructed for the implementation of new ideas.
CV
Artist associations
2021 – IAPMA (The International Association of Hand Papermakers and Paper Artists)
2021 – LDS (The Latvian Designers' Society)
2019 – ETN (Eupopen Textile Network)
2019 – BMMK (Barnets Møde Med Kunsten)
2019 – UMMK (Unges Møde Med Kunsten)
2018 – Billedkunstnernes Forbund (BKF)
2014 – Surface Design Association – Creative Exploration of Fiber & Fabric
1999 – "Association of Latvian Textile Art"
Education
2022 – 2022
2022 – 2022


2021 – present


2012 – 2015


1999 – 2001

1993 – 1999
Craft psychology, Denmark
Supplementary education course "Design for teachers",
Design School Kolding

Master in "Innovation og kreativt læringsdesign",
Aalborg University

Department of Textile Design, Crafts and Communication, VIA University College, Denmark

Master's Program Degree, Pedagogy Institute, Riga University, Latvia

Master of Arts in Textile Art, Art Academy of Latvia, Riga, Latvia
Latest exhibitions
2021
– Solo exhibition in Jurmala City Museum "Between Two Seas"
– Exhibition "Art and recycling", Mississippi center for art and culture, Thyholm, Denmark
– "The 10th International Biennial Exhibition of Mini Textile Art "Scythia", Ivano- Frankivs'k, Ukraine.

2020
– Exhibition "Restored values" – Association of Latvian Textile Art , Latvia
– Exhibition with the theme 'Recycling', Utopia gallery, Holstebro, Denmark
– Minitextile exhibition "Message for friend" , Association of Latvian Textile Art , Latvia
– Exhibition, Lexington Opera House, Kentucky

2019
– 11th International Textile Biennial "Measure" curated by Prof. Žydrutė Ridulytė
– The 2nd International Sea Themed Biennale "Marīna 2019" painting competition, Latvia
– Juried exhibition at i Art and Cultur Center Mississip, Denmark

2018
– Juried exhibition at Art Center Gimsinghoved, Denmark
– International sculpture festival "Høfte 90", Denmark
– Selected exhibition at Museum for Modern Art – Doverodde Købmansgaard, Thy, Denmark

2017
– Solo exhibition, curated by Tinghuset, Ulfborg, Denmark North Jutland's Art Union.

2016
– Solo exhibition, Bovbjerg Lighthouse, Denmark
– Juried exhibition at Art Center Gimsinghoved, Denmark

2015
– Juried exhibition at Art Center Gimsinghoved, Denmark
– International Sculpture Festival curated by Agger Event and Kirsten Barlit, Denmark
– Selected Spring exhibition curated by Limfjord's Art Association/Union, Denmark
– Juried exhibition at Art Center Gimsinghoved, Denmark
– Udstilling på International "Sculpture Festival", The North Sea curated af Agger Event
og Kirsten Barlit

Latest projects
2019 – The Danish Association of Professional Technicians– art and crafts workshop/communication, Denmark
2019 – Creative workshops for kids, European Capital of Culture Aarhus 2017, European Culture Festival "Genopdag", Denmark